Bombing of Women And Children In Syria Continues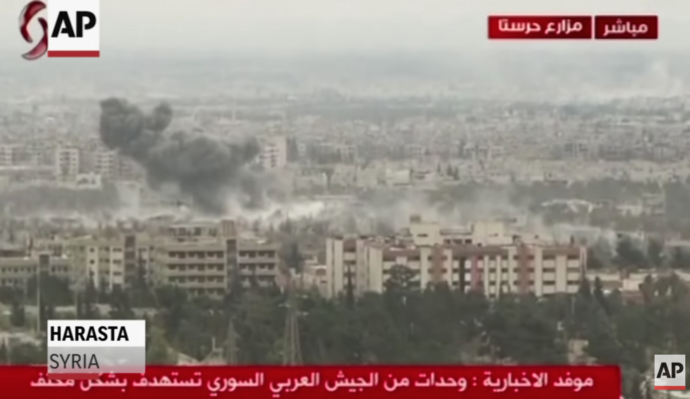 While most of us sit around complaining about our first world problems, the people of Syria continue to suffer in a bloody war that is killing women and children even after a cease fire and claims that innocent civilians could flee. This is tragic footage from the Associated press stating that "Syrian monitoring group and paramedics say that despite the United Nations cease-fire resolution, new bombardment of the rebel-held suburbs east of Damascus killed 10 people as airstrikes and bombing resumed." (Feb. 26)
If you are not 100% familiar with what is going on here, Syrian President Bashar al-Assad's government fighting opposition rebel groups across the country for 8 years. You may remember Allepo was before this, but there is a whole other region called Eastern Ghouta that has been at war since 2013. Now after 5 years of fighting the rebels, Assad and his Russian backers have decided to bomb the region risking any cost necessary to secure the region. Similar to Allepo, Assad plans to bomb the region until they give in to his ruthless tactics despite the countless deaths of his own people, some of which due to chemical warfare like chlorine gas.
via Global News and AP
With no food water and other necessities this is quickly turning into an awful situation where we will see starving and death if the U.N. is unable to step in to help. Find an organization and donate to this cause if you can, this is awful to see. Here are 3 organizations that need your help:
UNHCR.
The United Nations' Refugee Agency although criticised at times is giving cash directly to refugees fleeing Syria and other areas in the region. $430 million (£346 million) has been given to displaced people across the globe this year, and $355 million (£286 million) in the Middle East alone. Donate here.
The Syrian American Medical Society.
SAMS gives financial and logistical support medical professionals in Syria, as well as online learning resources for Syrian medicine students. Donate here
Médecins Sans Frontières.
The globally-respected medical relief organisation has seen its hospitals in Aleppo destroyed by indiscriminate bombing, but continues to send medical supplies to evacuees in Aleppo governate. Donate here.
Last week more than 3,700 people were wounded, and more than 700 were killed in East Ghouta. #Ghouta #Syria pic.twitter.com/MJbbf3R8fN

— MSF UK (@MSF_uk) February 27, 2018